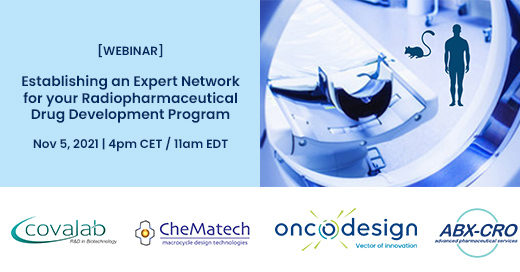 Preclinical and clinical evaluation of radiopharmaceuticals can be sometimes seen as straightforward compared to non-radioactive molecules as the injected doses are often below toxic doses.
However, the development of theranostics requires highly specific expertise and strong collaboration between preclinical and clinical development. The discovery and development process require
multiple and highly specialized skills, the combination of which rather nonexistent in a single structure, even more in the specialized field of radiopharmaceuticals.
The DRIVE™-Molecular RadioTherapy (MRT) offer is based on the complementary knowledge and know-how of each partner Covalab, CheMatech, Oncodesign and ABX-CRO representing an experienced and innovative network in nuclear medicine.
Join our webinar on 5th November 2021, 4 pm (CET) / 11 am (EDT) and get to know the alliance and our experts Meddy El Alaoui (Covalab), Frederic Boschetti (Chematech) and Cyril Berthet (Oncodesign) and Andreas Kluge (ABX-CRO).